The global aircraft market size reached USD 400 billion in 2022 and is estimated to be worth around USD 561.50 billion in 2032, growing at a CAGR of 3.5% from 2023 to 2032.
Ottawa, Nov. 20, 2023 (GLOBE NEWSWIRE) — The global aircraft market size accounted for USD 412 billion by 2023 and is projected to surpass around USD 502.06 billion by 2029, According to Precedence Research.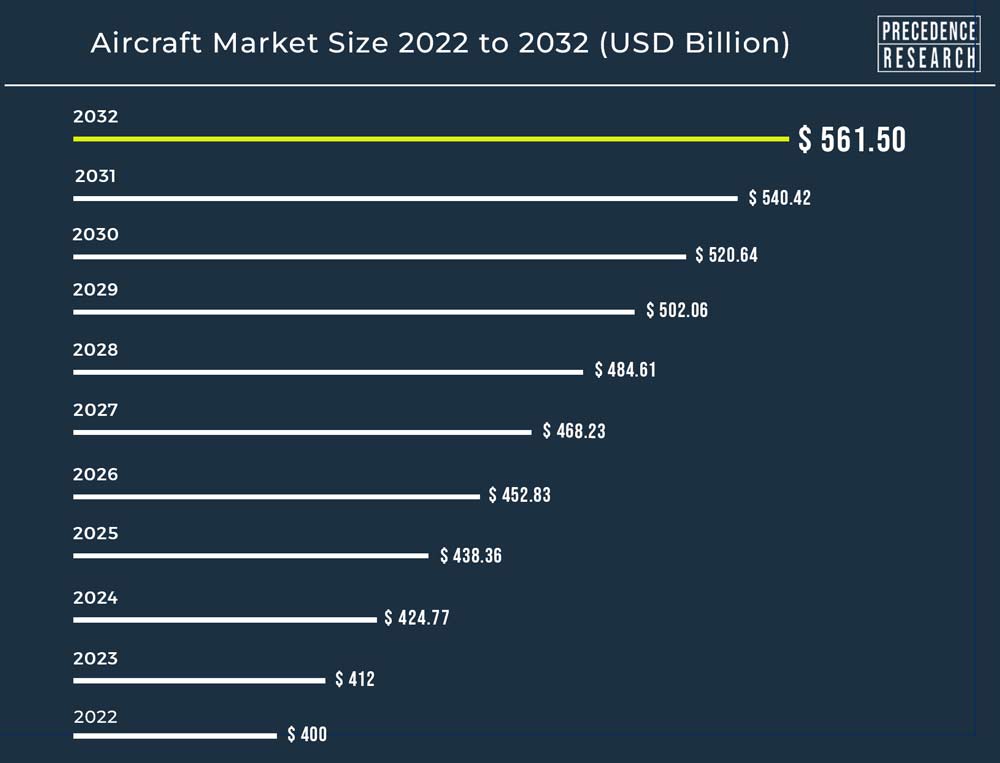 An aircraft is a vehicle designed for the purpose of flying through the Earth's atmosphere. These vehicles are used for various purposes, including transportation of passengers and cargo, military operations, surveillance, scientific research, and recreational activities. Aircraft come in many different forms and sizes, but they all share the fundamental ability to generate lift to overcome gravity and achieve flight. The aircraft industry has constantly grown. After enduring disasters and exhibiting steadfast perseverance, it has evolved into an essential mode of transportation. Aviation is crucial to global trade because it offers the only reliable method of global transportation. It boosts economic growth, generates employment, and makes it easier to travel abroad.
The UN's 2030 Agenda for Sustainable Development will be supported by all States as a result of this growth's enormous economic potential. Aviation will support 98 million employment and produce USD 5.7 trillion in GDP in 2036.
Download Sample Pages for Better Understanding @ https://www.precedenceresearch.com/sample/3339
Growth Factors
The aircraft are generally referred to as an airline, airplane, or plane. The aircraft come in several shapes or forms like gliders, balloons, airplanes, and helicopters. The continuous development in technology for the development of the aircraft industry is driving the growth of the aircraft market. Shifts in living standards and rising disposable income in the population are driving the demand for air transportation.
Governments in several countries are focused on improving the infrastructure of aviation industry, this element brings a potential factor for the market.
From past several years, it has been noticed that general aviation such as helicopters, cargo, private jets are used by the hospitals, travel agencies and celebrities for general use, this factor is also impacting the growth of the aircraft market.
The pharmaceutical industry is highly contributing to the growth of the aircraft market by transporting medical transportation like medicines, patients, etc. aircraft are playing an important role in emergency transportation which is positively impacting the overall expansion of the market.
Key Insights:
Asia Pacific led the global market with the largest market share of 40% in 2022.
North America region is considered to be the quickest-growing region.
By Type, the commercial segment had the largest market share in 2022.
By Size, the narrow-body segment dominated the market in 2022.
By Size, the wide-body segment is anticipated to grow significantly.
You can place an order or ask any questions, please feel free to contact at sales@precedenceresearch.com | +1 650 460 3308
Regional Snapshot
Asia Pacific dominated the global aircraft market in 2022, the region is expected to continue the trend during the forecast period. The rising population is observed to grow the demand for air travel in the region. Multiple Asian countries are emerging as major aviation markets, with a burgeoning demand for both commercial and private aircraft. The region also serves as a commercial hub for international travel, connecting major cities across continents. This geographic advantage has attracted airlines and manufacturers to establish a strong presence in the region.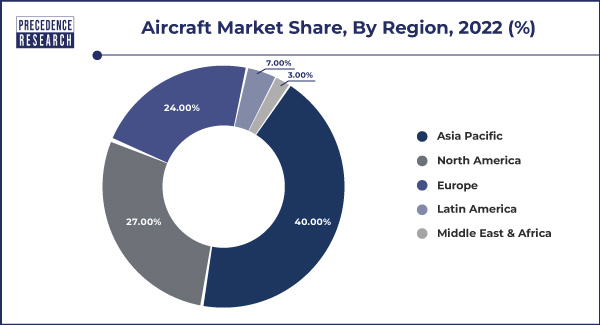 Aircraft manufacturing companies, such as Airbus and Boeing have established production and assembly facilities in the region. This allows them to tap into the growing market and reduce production costs. Governments in the Asia Pacific region often offer incentives to support the aviation industry, including subsidies and regulatory assistance. The region's diverse cultures made it a popular tourist destination. This, in turn, has increased the demand for air travel within the region and from other parts of the globe.
Report Highlights:
Type Insights:
Commercial aircraft led the market with a dominating share in 2022. As countries focus on facilitating international trade and boost tourism activities, the demand for commercial aircraft is observed to grow. Multiple airlines have replaced aircraft with luxurious and convenient services, even for domestic/short distance travel, this makes an ideal option for tourists. Thereby, the segment is expected to continue its growth at a robust pace.
Size Insights
The narrow-body aircraft segment dominated the market in 2022, the segment is expected to sustain the trend throughout the forecast period. The fuel consumed by narrow-body aircraft is comparatively less due to its overall size and weight, this makes the narrow-body aircraft an ideal solution for short-distance and domestic travel. As the number of domestic flights increases, the segment is observed to grow.
You can further customize the report@
https://www.precedenceresearch.com/customization/3339
Scope of this Report
Coverage
Details
Market Size in 2023
USD 412 billion
Market Size by 2032
USD 561.50 Billion
CAGR
3.5
%
 
Asia Pacific Share
40
%
 
Fastest Growing Region
North America
Market Dynamics
Driver:
Emergence of cargo aircraft
The speed at which products are carried may be the biggest benefit of air cargo charters. With some cargo flights being scheduled and flown the same day, this means of transportation offers the quickest delivery timeframes in addition to precise and predictable departure and arrival schedules. Air transportation is frequently the only choice for shippers with time-sensitive cargo, such perishable items or some medical supplies. The rising popularity of e-commerce businesses is observed to propel the demand for cargo aircraft in the upcoming period. Thus, the emergence of cargo aircraft is expected to act as a major driver for the market.
Restraint:
Improper airport infrastructure
Inadequate infrastructure may not support larger or more advanced aircraft, limiting the options available to airlines. This can be a barrier to modernization and fleet optimization, which are essential for staying competitive. Passengers may be dissatisfied with airports lacking modern amenities and services.
A poor passenger experience can deter people from flying, reducing overall demand for air travel. Inadequate runway length or poor maintenance can compromise safety during takeoff and landing. Airlines may be reluctant to operate at airports with safety concerns, leading to reduced service options.
Outdated or insufficient air traffic control systems can lead to inefficient airspace management and flight routing. This can result in increased fuel consumption, longer flight times, and higher operating costs for airlines.
Opportunity:
Integration of hybrid aircraft propulsion
Hybrid electric propulsion systems boost efficiency and save weight by permitting the optimization of particular components at cruising speeds. This is accomplished by decoupling thrust and power generation and/or by providing concentrated thrust during crucial operational periods. Systems that combine electric motors, battery storage, and other types of aircraft energy generation are referred to as hybrid electric propulsion systems.
Among the configurations are aircraft with dual propulsion that combines internal combustion engines and electric motors. Batteries that store energy from sources like classic gasoline or diesel generators, hydrogen fuel cells, solar photovoltaic cells, or batteries can power electric motors. Considering all these advantages of hybrid aircraft propulsion creates a significant potential for the market to expand with its integration in the industry.
Challenge:
Supply chain disruptions
The aircraft market can be highly cyclical, with demand influenced by economic factors and geopolitical events. Managing production levels and workforce during market downturns can be challenging. The global nature of the aircraft supply chain means that disruptions, such as those caused by natural disasters or geopolitical tensions, can have a significant impact on production and delivery schedules.
Related Reports
Aircraft MRO Market: The global aircraft MRO market size was estimated at USD 80.42 billion in 2022 and is expected to hit around USD 132.25 billion by 2032, growing at a CAGR of 5.19% during the forecast period 2023 to 2032.
Aircraft Sensors Market: The global aircraft sensors market size reached USD 5.93 billion in 2022 and it is expected to hit around USD 14.94 billion by 2032, growing at a CAGR of 9.68% during the forecast period from 2023 to 2032.
Aircraft Actuators Market: The global aircraft actuators market size accounted for USD 16.74 billion in 2022 and it is predicted to reach around USD 28.38 billion by 2032, poised to grow at a CAGR of 5.42% over the forecast period 2023 to 2032.
Recent Developments:
In September 2023, DigiYatra software developed by CIAL and the import cargo terminal of Cochin International Airport Limited (CIAL) and the modernization of the airport emergency service was launched by Chief Minister Pinarayi Vijayan on October 2.
In June 2022, as per the new agency Xinhua, China launched its third aircraft carrier, the carrier name "Fujian". It is a ship designed and built in China. According to the defense news the Fujian was launched at the Shanghai shipyard, is place where the aircraft has been built since 2018.
In September 2023, the Indian Air Force organized the first C-295 aircraft into its fleet to increase its logistics capabilities. The launch ceremony was organized in the Gaziabad's Hindan Air Force Station and launched by the Defense Minister of India.
In September 2023, Joby Aviation Inc., the organization that works for passenger aircraft services and on the development of electric vertical take-off and landing (eVTOL) aircraft announced the delivery of its first aircraft, and the delivery is expected approximately six months ahead which is dated 2024.
You can place an order or ask any questions, please feel free to contact at sales@precedenceresearch.com | +1 650 460 3308
Market Key Players:
The Boeing Company
Airbus SE
Lockheed Martin Corporation
Textron Inc.
Embraer S.A.
Market Segmentation
By Type
Commercial Aircraft

Passenger Aircraft
Freighter

Military Aircraft

Combat Aircraft
Non-Combat Aircraft
By Size
Narrow Body Aircraft
Wide Body Aircraft
By Geography
North America
Europe
Asia-Pacific
Latin America
Middle East and Africa
Immediate Delivery Available | Buy This Premium Research Report@
https://www.precedenceresearch.com/checkout/3339
Unlocking Market Insights through Data Excellence 
The "Precedence Statistics" flexible dashboard is a powerful tool that offers real-time news updates, economic and market forecasts, and customizable reports. It can be configured to support a wide range of analysis styles and strategic planning needs. This tool empowers users to stay informed and make data-driven decisions in various scenarios, making it a valuable asset for businesses and professionals looking to stay ahead in today's dynamic and data-driven world. 
To Access our Premium Real-Time Data Intelligence Tool, Visit: www.precedencestatistics.com
About Us
Precedence Research is a worldwide market research and consulting organization. We give an unmatched nature of offering to our customers present all around the globe across industry verticals. Precedence Research has expertise in giving deep-dive market insight along with market intelligence to our customers spread crosswise over various undertakings. We are obliged to serve our different client base present over the enterprises of medicinal services, healthcare, innovation, next-gen technologies, semi-conductors, chemicals, automotive, and aerospace & defense, among different ventures present globally.
Our Blogs:
https://www.towardshealthcare.com
https://www.towardspackaging.com
For Latest Update Follow Us:

Disclaimer: The above press release comes to you under an arrangement with GlobeNewswire. SingaporeOutlook.com takes no editorial responsibility for the same.