The global anti-counterfeiting packaging market size was valued at USD 140.27 billion in 2022 and is estimated to hit around USD 472.08 billion by 2032, growing at a noteworthy CAGR of 12.9% from 2023 to 2032.
Ottawa, Nov. 17, 2023 (GLOBE NEWSWIRE) — The global anti-counterfeit packaging market size accounted for USD 158.37 billion in 2023 and is expected to reach around USD 328.02 billion by 2029, According to Precedence Research. North America led the global market with the largest market share of 40% in 2022. 
Growing concerns from top manufacturers around the world about the dilution of brand identification are fueling the market's expansion. Additionally, growth over the projected period is anticipated to be driven by increased technological innovation for the creation of highly secure packaging for usage in application sectors.
Download the Sample Pages@ https://www.precedenceresearch.com/sample/2701
Anti-counterfeit packaging involves giving the products safe packaging to lower the incidence of theft or counterfeiting. Packaging designed to assure product safety and deter imitation is known as anti-counterfeiting packaging. Businesses employ anti-counterfeiting methods to lessen the harm that counterfeiting causes to their revenue and consumer loyalty. The financial loss to the business and the health dangers to clients are two of the main causes encouraging the implementation of anti-counterfeit packaging. The primary factor contributing to this loss of income is drug fraud for over-the-counter use. Thus, the deployment of cutting-edge technologies for product tracking would reduce the harm to the economy and increase demand for packaging that is resistant to counterfeiting. Additionally, favorable government rules for food and pharmaceutical packaging, which are a major driving force in this market, boosts anti-counterfeit solutions.
Key Insights:
Asia-Pacific region is estimated to expand the fastest CAGR between 2023 and 2032.
By type, the mass encoding segment had the largest market share in 2022.
By end user, the pharmaceuticals segment registered the maximum market share in 2022.
Regional Insights
North America has held the maximum of market share in 2022 and is expected to expand at a remarkable CAGR of 12.4% during the forecast period. The anti-counterfeit packaging sector in North America is primarily driven by government measures to combat the counterfeit market in the United States and Canada. Product traceability is essential due to consumer desire for more accessibility. The enforcement of anti-counterfeiting laws has assisted in growing its market share. To facilitate item tracking and identification, manufacturers are gradually incorporating more sophisticated technologies into machines.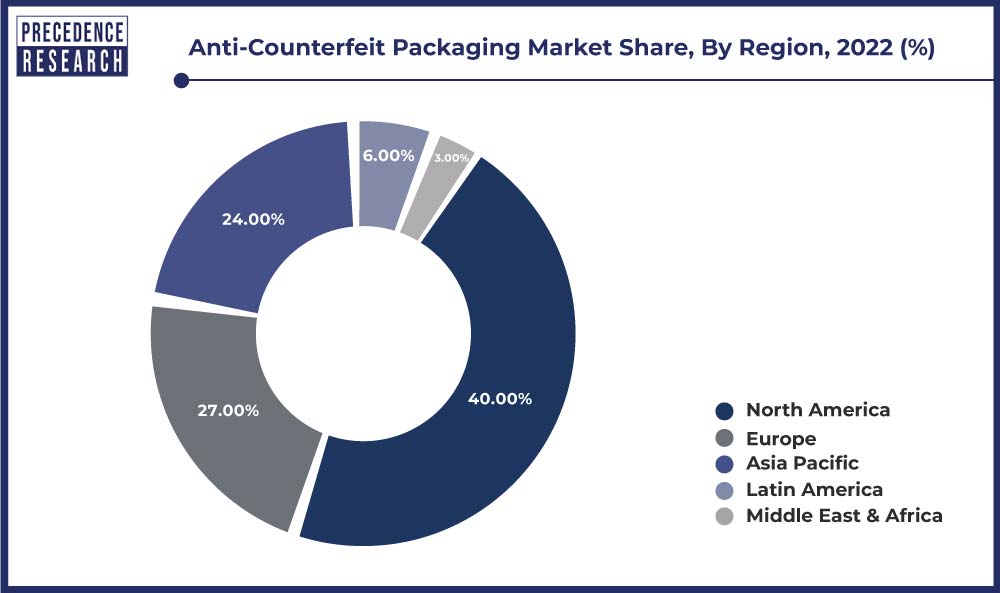 Asia-Pacific had the market's quickest growth rate in 2022 because companies there always come up with new ways to guarantee the quality of their products and follow stringent health and safety regulations. For instance, the fact that many pharmaceutical firms manufacture their products in China has prompted the country to take more proactive measures to safeguard customers from food and medical device fraud as well as phony drugs.
You can place an order or ask any questions, please feel free to contact us at 
sales@precedenceresearch.com | +1 650 460 3308
Anti-counterfeit Packaging Market Scope
| | |
| --- | --- |
| Report Coverage | Details |
| Market Size in 2023 | USD 158.37 Billion |
| Market Size by 2032 | USD 472.08 Billion |
| Growth Rate from 2023 to 2032 | CAGR of 12.9% |
| Largest Market | North America |
| Base Year | 2022 |
| Forecast Period | 2023 to 2032 |
| Segments Covered | By Technology, By Packaging Format and By End-User |
| Regions Covered | North America, Europe, Asia-Pacific, Latin America and Middle East & Africa |
Report Highlights
Based on Technology, the anti-counterfeit packaging market is segmented into holograms, RFID, mass encoding, forensic markers, tamper evidence, and others. In 2022, the mass encoding category's anti-counterfeit packaging market growth was noticeably strong. Mass encoding segment is expanding at a notable CAGR of around 12% during the forecast period.
Based on End-users, the anti-counterfeit packaging market is segmented into pharmaceuticals, food and beverage, automotive, personal care, electrical & electronics, luxury products, and others. The medicines market segment led the market with the largest market share in 2022.
Customize this study as per your requirement@ https://www.precedenceresearch.com/customization/2701
Market Dynamics
Driver
Increasing demand of anti-counterfeit packaging in pharmaceuticals and healthcare sector
One of the most profitable sectors of the world economy is anti-counterfeit pharmaceuticals. Many people worldwide suffer harm from and even pass away due to fake medications. It causes significant harm to the brands of makers of conventional pharmaceuticals. Recently, there have been several reports of bogus COVID vaccines being administered to the people of various nations. For instance, the World Health Organization (WHO) discovered fake Covishield products, which sparked great concern among worldwide stakeholders. Additionally, Pfizer's fake vaccination vials were discovered all over the world and in various locations within the United States. Therefore, it is projected that rising demand for anti-counterfeit packaging in the pharmaceutical and healthcare sectors will accelerate market expansion.
Restraint
High cost
The high cost of putting anti-counterfeit measures into place is one of the main obstacles for the anti-counterfeit packaging sector. Anti-counterfeit packaging solutions frequently call for the acquisition and application of expensive specialized supplies, tools, and technologies. Additionally, altering current production procedures may be necessary to implement anti-counterfeit measures, which would raise prices.
Small and medium-sized businesses (SMEs), which may lack the financial resources to invest in these measures, may find it difficult to compete due to the high cost of anti-counterfeit packaging solutions. To recover their investment, SMEs may find it difficult to persuade customers to pay a premium for products that are packaged with anti-counterfeiting measures.
Opportunity
Technological advancement
The market for anti-counterfeit packaging is undergoing technological changes that are allowing the creation of novel and more efficient solutions. Manufacturers now have the opportunity to spend money on R&D to develop advanced anti-counterfeit packaging solutions.
Radio Frequency Identification (RFID) tags are one of the most important technological developments. RFID tags can be included into items and packaging, offering a trustworthy way to identify fake goods. RFID tags have the ability to wirelessly store and transfer data, giving producers the ability to follow things from the point of manufacture to the point of sale. With the help of this technology, manufacturers can stop fake goods from entering the supply chain, and customers can confirm the legitimacy of products.
The adoption of tamper-evident labels is another technological innovation. When the package has been tampered with, these labels change look, giving a clear signal that the contents may also have been tampered with. An efficient packaging option to stop counterfeiting and safeguard consumers is tamper-evident labels.
Challenge
Counterfeiters' adaptability
The adaptability of counterfeiters is one of the key issues facing the anti-counterfeit packaging sector. The techniques and procedures used by counterfeiters to create fake goods that can pass for genuine are continually developing. Therefore, anti-counterfeiting tactics that were successful in the past might not be useful today. Advanced printing technologies, such as 3D printing and digital printing, are available to counterfeiters, who can employ them to produce high-quality imitations that are challenging to spot. They could also employ strategies like altering the packaging of fake goods to make them appear more authentic.
Additionally, counterfeiters are evolving their methods to become more sophisticated. For instance, they might build fake websites and online stores to sell counterfeit goods, making it more challenging for customers to tell the difference between real and fake goods.
The anti-counterfeit packaging sector has a considerable problem due to the adaptability of counterfeiters. Manufacturers must create anti-counterfeit strategies that can keep up with counterfeiters' developing strategies. To combat counterfeiting, it is necessary to continually research and create new technologies and strategies.
Related Reports
Anti-counterfeit Cosmetic Packaging Market: The global anti-counterfeit cosmetic packaging market size reached USD 131.85 billion in 2022 and it is projected to hit around USD 449.54 billion by 2032, poised to grow at a CAGR of 13.1% from 2023 to 2032.
Biodegradable Packaging Market: The global biodegradable packaging market size surpassed USD 440 billion in 2022 and is anticipated to reach around USD 814.35 billion by 2032, registering a CAGR of 6.4% during the forecast period 2023 to 2032.
Rigid Plastic Packaging Market: The global rigid plastic packaging market size accounted for USD 175.59 billion in 2022 and it is expected to hit around USD 258.65 billion by 2032, poised to grow at a CAGR of 4% during the forecast period 2023 to 2032.
Recent Developments
Strategic IP Information Pte Ltd (SIPI), a supplier of online trademark and content rights protection, was bought by Authentix in July 2021. The acquisition broaden Authentix's range of brand protection clients' options by adding online anti-counterfeiting and content rights solutions to its portfolio of digital security technologies.
In May 2020, SICPA Holdings introduced a new integrated product security label with cutting-edge, counterfeit-resistant, secure, and traceable codes, as well as hidden features to safeguard customers and the reputation of the brand. With the aid of this solution, brand owners can support their consumer contact, supply chain controls, and investigation & enforcement operations.
In March 2020, Flexpol sp z.0.0 (Flexpol), which is today traded as Innovia Poland, was acquired by CCL Industries Inc. The company's current capacity to support the label sector in the European region is anticipated to increase as a result of this purchase. A new sales branch for Sato was opened in the southern region of Malaysia in May 2019. This new sales office is situated in Johor Bahru, the state capital of Malaysia's Johor region. By providing high-quality auto-ID and data gathering solutions to diverse industries like manufacturing, logistics, and healthcare, the company hopes to serve its customers in southern Malaysia and expand its presence there.
Market Segmentation
By Technology
Holograms
RFID
Mass Encoding
Forensic Markers
Tamper Evidence
Others
By Packaging Format
Bottles & Jars
Vials & Ampoules
Blisters
Trays
Pouches & Sachets
Tubes
Syringes
By End-User
Pharmaceuticals
Food and Beverage
Automotive
Personal Care
Electrical & Electronics
Luxury Products
Others
By Geography
North America
Europe
Asia-Pacific
Latin America
The Middle East and Africa
Immediate Delivery Available | Buy This Premium Research Report@ https://www.precedenceresearch.com/checkout/2701
Unlocking Market Insights through Data Excellence 
The "Precedence Statistics" flexible dashboard is a powerful tool that offers real-time news updates, economic and market forecasts, and customizable reports. It can be configured to support a wide range of analysis styles and strategic planning needs. This tool empowers users to stay informed and make data-driven decisions in various scenarios, making it a valuable asset for businesses and professionals looking to stay ahead in today's dynamic and data-driven world. 
To Access our Premium Real-Time Data Intelligence Tool, Visit: 
www.precedencestatistics.com
About Us
Precedence Research is a worldwide market research and consulting organization. We give an unmatched nature of offering to our customers present all around the globe across industry verticals. Precedence Research has expertise in giving deep-dive market insight along with market intelligence to our customers spread crosswise over various undertakings. We are obliged to serve our different client base present over the enterprises of medicinal services, healthcare, innovation, next-gen technologies, semi-conductors, chemicals, automotive, and aerospace & defense, among different ventures present globally.
Our Blogs:
https://www.towardshealthcare.com
https://www.towardspackaging.com
For Latest Update Follow Us:

Disclaimer: The above press release comes to you under an arrangement with GlobeNewswire. SingaporeOutlook.com takes no editorial responsibility for the same.