The global automotive active safety systems market size was valued at USD 98.27 billion in 2022 and is projected to surpass around USD 227.35 billion by 2032, expanding at a remarkable CAGR of 8.80% between 2023 and 2032.
Ottawa, Nov. 20, 2023 (GLOBE NEWSWIRE) — The global automotive active safety systems market size accounted for USD 106.43 billion in 2023, According to Precedence Research. North America led the market with the largest market share of 33% in 2022.
The automotive active safety systems market revolves around offering technologies and systems created to reduce accident risk and improve the safety of vehicles and their occupants. These technologies are often built into cars for real-time assistance and intervention to help drivers avoid crashes and lessen the severity of accidents. Advanced Driver Assistance Systems (ADAS), which include functions like adaptive cruise control, lane-keeping assistance, and automatic emergency braking, have rapidly increased in popularity.
These features are showing up more frequently in new cars. Automakers and IT firms are developing systems that can take over control of the car, making the development of self-driving technology a big trend. Advancements in sensor technology, such as radar, lidar, and cameras, are critical for the effectiveness of active safety systems. These sensors are becoming more sophisticated.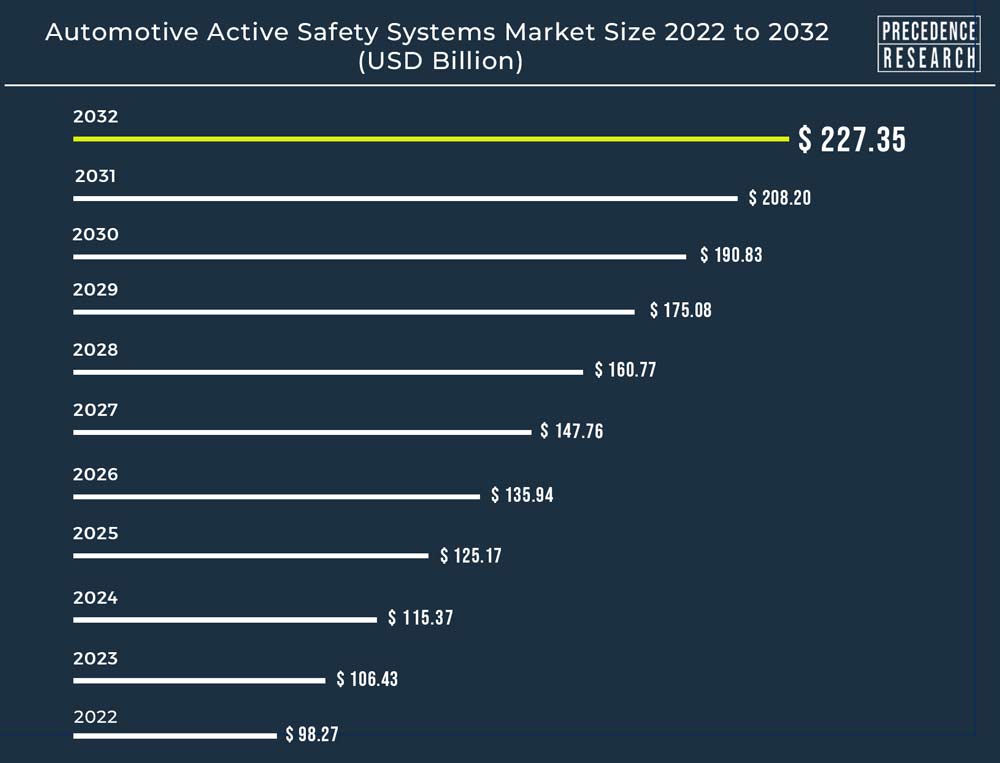 Download Sample Copy for Better Understanding@
https://www.precedenceresearch.com/sample/3356
Key Insights:
Europe is expected to witness the fastest growth during the forecast period.
By Product Type, the adaptive cruise control segment contributed the largest market share in 2022.
By Product Type, the antilock braking segment is anticipated to expand at the fastest CAGR from 2023 to 2032.
By Sensor Type, the radar sensor segment held the highest revenue share in 2022.
By Sensor Type, the camera sensor segment is anticipated to show noticeable growth.
Growth Factors:
Automotive active safety systems are intended to improve a vehicle's safety and prevent accidents. The creation and uptake of these systems are motivated by various factors. Governments worldwide have increased the requirements for automobile safety. Automakers are compelled to install active safety measures to comply with these standards. Customers are increasingly searching for cars with cutting-edge safety features. Many automobile purchasers now prioritize features like adaptive cruise control, lane-keeping assistance, and automatic emergency braking.
Active safety measures can now be implemented more affordably because of developments in sensor technology, including radar, lidar, and cameras. Automobile manufacturers are driven to lower accidents and raise safety standards since doing so can boost their brand's reputation and prevent expensive lawsuits. Consumer preference for passenger cars has skyrocketed recently, propelling the market's expansion. As an illustration, the graph below depicts the ten-year global sales of passenger cars.
Regional Snapshots:
In 2022, North America dominated the market. The development of autonomous and connected vehicles has been crucial to the expansion of this business. These active safety systems' convenience and safety advantages give automakers a competitive edge. Active safety measures are also becoming increasingly important as self-driving technology develops to maintain vehicle and road safety as consumers go toward fully autonomous driving.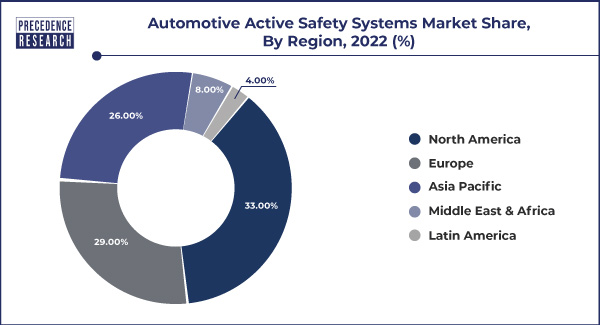 After several high-profile accidents and fatalities involving different automobiles, there has been an increase in consumer demand for safer vehicles. Customers are increasingly looking for vehicles with improved safety features, which has motivated automakers to include active safety systems in their models. The cost of these systems has also declined due to economies of scale, enhanced manufacturing processes, and increased competition among suppliers. Lower prices for advanced sensors and components have made active safety systems more accessible to a broader range of consumers, further contributing to market growth.
North America's competitive automotive landscape has led to a proliferation of active safety technologies as automakers strive to differentiate their products. To stay ahead in the market, manufacturers continually innovate, pushing the boundaries of what these systems can achieve and making them more sophisticated, reliable, and accessible.
Report Highlights:
Based on product type, the adaptive cruise control (ACC) segment dominated the market in 2022. Consumer demand has increased as consumer understanding of ACC's advantages develops. Safety and convenience are top priorities for many car buyers, and ACC supports these desires. Since ACC can be purchased separately or as part of larger packages, automakers cater to a wide spectrum of customers by meeting this demand. Government organizations and safety groups worldwide are increasingly appreciating the value of ACC in lowering collisions and traffic congestion. They have started requiring safety systems like ACC in new cars, giving it legal justification to be used. This pushes automakers to incorporate ACC and supports the industry's standardization.
Based on sensors, radar sensors led the market in 2022. Radar technology has been a pillar of the aerospace and defense industries for many years. It is applied to various tasks, such as battlefield observation, missile guidance, and air traffic control. Radar technology developments continue to fuel expansion in these sectors. Radar sensors are frequently used in smart city programs for traffic management. It helps detect pedestrians and cyclists, improving safety for vulnerable road users, a growing global concern.
You can further customize the report@ https://www.precedenceresearch.com/customization/3356
Scope of Automotive Active Safety Systems Market
Coverage
Details
Global Market Size in 2023
USD 108.43 Billion
U.S. Market Size in 2023
USD 20 Billion
Global Market Size by 2032
USD 227.35 Billion
U.S. Market Size by 2032
USD 42.37 billion by 2032
Growth Rate from 2023 to 2032
CAGR 8.80%
 
North America Share
33%
 
 
Fastest Growing Region
Europe 
Market Dynamics:
Driver:
Increasing safety concerns
The rise in global concerns about road safety is directly related to the market growth for car active safety systems. Safety has been a top priority for manufacturers and customers due to the rapid growth of the automobile industry and the dramatic increase in vehicles on the road. Active safety systems are essential in addressing these worries by reducing the likelihood of accidents and their potentially disastrous effects. The need for better safety measures grows as road network complexity and traffic congestion continue to increase. According to the World Health Organization (WHO), 1.3 million people die in traffic accidents annually, making traffic injuries a primary cause of death worldwide. These statistics have led to a growing awareness of the need to reduce road accidents' human and economic toll, prompting governments, organizations, and individuals to take action.
A proactive approach to road safety is through active safety systems. Rather than just lessening the effects of a collision after it has already happened, they are meant to help drivers prevent accidents altogether. These systems monitor the area around the car and sound an alert or take action when they notice any threats using cutting-edge technologies like radar, lidar, cameras, and artificial intelligence.
Restraint:        
Technical challenges:
The automobile industry is undergoing a revolutionary change toward integrating advanced active safety systems, driven by the development of self-driving technology and the goal of improving road safety. However, there are technological obstacles, and they can seriously affect how these systems are developed, implemented, and scaled. The systems' intricacy is one of the leading technological obstacles that the car active safety systems business must overcome. Numerous technologies are included in these systems, including autonomous driving capabilities, adaptive cruise control, lane-keeping assistance, and collision avoidance. To guarantee the security and dependability of the car, each of these parts depends on a network of sensors, cameras, radar, lidar, and other complex gear that must all operate together harmoniously.
The algorithms and software that control these systems are equally complicated. Active safety systems rely heavily on machine learning and artificial intelligence to receive and interpret real-time data, make snap choices, and react to dynamic road conditions. Developing and optimizing these algorithms takes much testing, validation, and refining.
Opportunity:
Consumer preferences
Consumer preferences are pivotal in shaping the automotive active safety systems market. As awareness of safety issues on the road continues to grow, consumers increasingly prioritize safety features when purchasing. Several factors contribute to this trend. Consumers are more informed about the benefits of active safety systems. This increased awareness stems from various sources, including media coverage of accidents, safety ratings from organizations like the National Highway Traffic Safety Administration (NHTSA) and the Insurance Institute for Highway Safety (IIHS), and word-of-mouth recommendations from friends and family.
Also, automakers and dealerships actively promote advanced safety features. They often use marketing campaigns to highlight the safety benefits of their vehicles, such as adaptive cruise control, lane departure warning, and blind-spot monitoring. These features enhance safety and provide convenience and peace of mind, which are attractive to consumers. Insurance incentives also contribute to consumer preferences. Many insurance companies offer discounts to policyholders who drive vehicles with active safety systems. These discounts can significantly reduce the cost of insurance premiums, making it financially appealing for consumers to opt for vehicles with these technologies.
Challenge:
Sensor limitations
Car active safety systems use a wide range of sophisticated sensors to sense the environment around the car and make quick judgments that improve safety. However, these sensors have some limits, which can cause problems for the systems' development and implementation. The influence of environmental factors is one of the main problems related to sensor limits. Weather-related factors affecting sensor accuracy include intense rain, snow, fog, or sun glare. For example, the accuracy with which the system detects obstacles or other cars may be compromised by the scattering or absorption of radar and LiDAR signals. This can be especially troublesome in areas with severe weather. Sensors are typically mounted on the vehicle's exterior, which means they can be obstructed by dirt, ice, or even physical objects like mud, leaves, or debris.
Even a small obstruction can significantly reduce a sensor's effectiveness. Keeping sensors clean and free from obstruction is crucial but can be challenging in real-world driving conditions. Many vehicles employ redundant sensors to enhance reliability, where multiple sensors of the same type are used. However, managing redundancy and ensuring that sensor data is correctly integrated into the vehicle's control system can be complex.
Related Reports
Automotive Data Management Market: The global automotive data management market size is projected to reach around USD 14.29 billion by 2032 from USD 2.19 billion in 2022, growing at a compound annual growth rate (CAGR) of 20.63% during the forecast period 2023 to 2032.
Connected Cars Market: The global connected cars market size was estimated at USD 33.73 billion in 2022 and is expected to hit around USD 136.11 billion by 2032 with a double-digit CAGR of 15.5% during the forecast period 2023 to 2032.
Autonomous Vehicle Chips Market: The global autonomous vehicle chips market size was valued at USD 1.71 billion in 2022 and expected to reach USD 41.99 billion by 2032, growing at a compound annual growth rate (CAGR) of 37.80% from 2023 to 2032.
Recent Developments:
In May 2023, Porsche, a maker of sports cars, and Mobileye, a technology startup, have teamed up to produce premium ADAS solutions in series.
In 2022, leading mobility provider DENSO created the Global Safety Package 3, an active safety system to increase vehicle safety by enhancing their environment-sensing abilities. The Toyota Noah and Voxy, released in August 2021, October 2021, and January 2022, respectively, and the Hino Ranger and the Lexus NX, all use this product.
In 2022, A ground-breaking Collision Mitigation System (CMS) for municipal buses will soon be available, was announced by ZF. The technology offers active braking to lessen the risk of frontal collisions with other road users, such as bicycles, cars, and pedestrians. It also works to lessen the negative effects of braking momentum on passengers.
You can place an order or ask any questions, please feel free to contact at sales@precedenceresearch.com | +1 650 460 3308
Market Key Players:
Bosch
Continental
Delphi
ZF Friedrichshafen
Autoliv
Takata
PSA Peugeot Citroen
Denso Corporation
Hella
Hyundai Mobis
Market Segmentation:
By Product Type
Tire-pressure Monitoring System
Lane Departure Warning
Adaptive Cruise Control
Night Vision System
Driver Monitoring
Antilock Braking System
Blind Spot Detection
By Sensor Type
Camera Sensor
Radar Sensor
Lidar Sensor
By Geography
North America
Europe
Asia-Pacific
Latin America
Middle East and Africa
Immediate Delivery Available | Buy This Premium Research Report@
https://www.precedenceresearch.com/checkout/3356
Unlocking Market Insights through Data Excellence 
The "Precedence Statistics" flexible dashboard is a powerful tool that offers real-time news updates, economic and market forecasts, and customizable reports. It can be configured to support a wide range of analysis styles and strategic planning needs. This tool empowers users to stay informed and make data-driven decisions in various scenarios, making it a valuable asset for businesses and professionals looking to stay ahead in today's dynamic and data-driven world. 
To Access our Premium Real Time Data Intelligence Tool, Visit: www.precedencestatistics.com
About Us
Precedence Research is a worldwide market research and consulting organization. We give an unmatched nature of offering to our customers present all around the globe across industry verticals. Precedence Research has expertise in giving deep-dive market insight along with market intelligence to our customers spread crosswise over various undertakings. We are obliged to serve our different client base present over the enterprises of medicinal services, healthcare, innovation, next-gen technologies, semi-conductors, chemicals, automotive, and aerospace & defense, among different ventures present globally.
Our Blogs:
https://www.towardshealthcare.com
https://www.towardspackaging.com
For Latest Update Follow Us:

Disclaimer: The above press release comes to you under an arrangement with GlobeNewswire. SingaporeOutlook.com takes no editorial responsibility for the same.