The global automotive LiDAR market size reached USD 0.83 billion in 2022 and is anticipated to hit around USD 7.43 billion by 2032, expanding at a CAGR of 24.97% from 2023 to 2032.O
Ottawa, Nov. 16, 2023 (GLOBE NEWSWIRE) — The global automotive LiDAR market size accounted for USD 0.99 billion in 2023 and is estimated to surpass around USD 3.54 billion by 2029, According to Precedence Research.
One of the main factors propelling the global automotive LiDAR market is the increasing need for completely and semi-autonomous vehicles. Because LiDAR technology provides precise and instantaneous three-dimensional mapping, it is essential to these vehicles' ability to navigate and comprehend their environment. The need for LiDAR solutions is anticipated to increase further as the automotive industry continues to embrace autonomous driving capabilities and advanced driver assistance systems (ADAS), which will fuel the market's expansion.
Download the Sample Pages@ https://www.precedenceresearch.com/sample/1033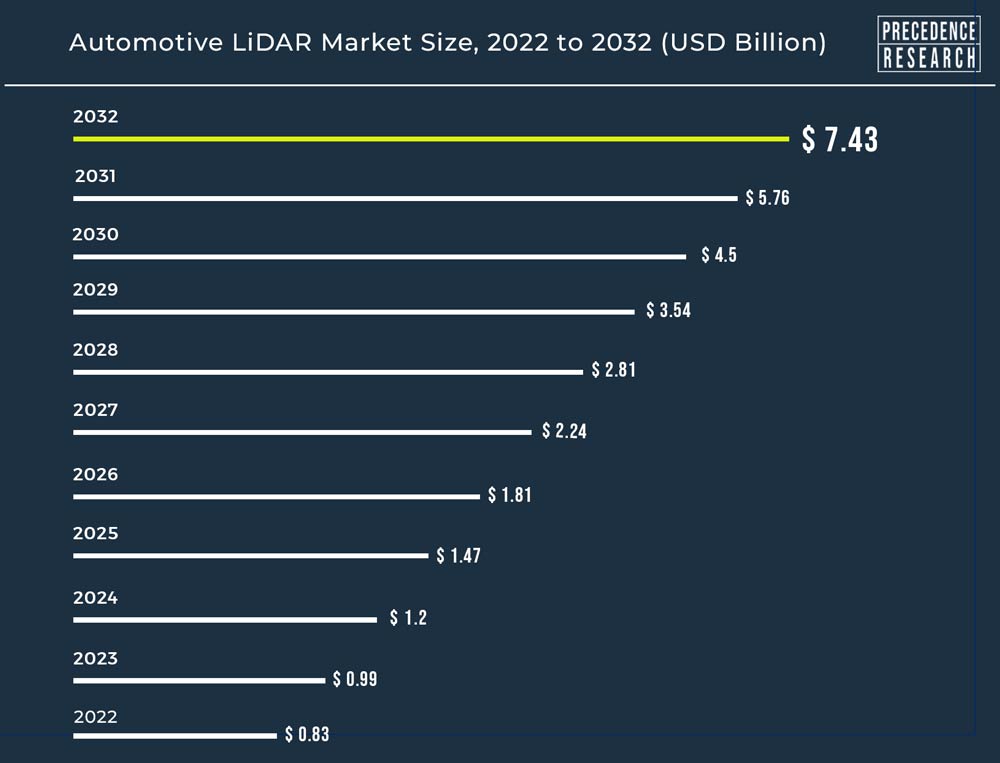 Market Overview
LiDAR is a remote sensing technology that uses laser light to measure the distance and construct maps of the environment. LiDAR technology is a crucial component of advanced driver assistance systems (ADAS) and autonomous vehicles. It works by launching the laser pulses analyzing the time for bounce-off objects and returning to the sensor. environment is generated in three dimensions using this data. Numerous fields, including autonomous cars, geography, archaeology, and meteorology, use LiDAR technology. When LiDAR technology was first developed in the 1970s, it was still a concept in the 1960s and was large, costly, and ineffective. But as technology has progressed, smaller devices have made LiDAR more widely available and indispensable in a few sectors, including autonomous cars.
There are several different kinds of LiDAR systems available, such as flash, solid-state, and mechanical LiDAR. Solid-state LiDAR is more dependable and compact than mechanical LiDAR systems as it doesn't require moving parts to scan the environment. A single laser pulse is released by Flash LiDAR, taking a momentary picture of the surroundings. Solid-state LiDAR has become becoming increasingly common owing to its ability to be more affordable and smaller.
Factors such as autonomous vehicle development, safety, enhanced Advanced Driver Assistance Systems (ADAS), technological advancements, regulatory support standards, investment and funding, urbanization, and smart cities drive the autonomous lidar market. However, the market is restricted by cost, weather, environmental challenges, sensor miniaturization, Interoperability, standardization, consumer acceptance, and trust. Furthermore, environmental impact reduction, customized LiDAR solutions, Retrofitting Existing Vehicles, data security, and privacy solutions, education and training programs, urban mobility solutions, real-time traffic management, renewable energy sector are expected to provide ample opportunities to the automotive LiDAR market.
Key Insights:
North America led the global market with the highest market share in 2022.
Europe seeks lucrative growth opportunities during the forecast period.
By Application, the Advanced Driver Assistance System (ADAS) segment has held the largest revenue share in 2022.
You can place an order or ask any questions, please feel free to contact us at 
sales@precedenceresearch.com | +1 650 460 3308
Regional Insights
The Asia Pacific region is expected to grow significantly owing to factors such as rapid economic development, large consumer markets, and government. support and investment, technological investments. Among countries in Asia Pacific, China stands to be the large market owing to its investments in autonomous driving technology, combined with the expanding electric vehicle (EV) industry, have vaulted it to the center. The quick development of LiDAR technology and autonomous vehicles has been made possible by industry leaders like Baidu and Pony.ai. A favorable regulatory environment has been created by the Chinese government's support of autonomous vehicle testing and deployment. China is a major player in the LiDAR industry, possessing the world's largest automotive market.
Automotive LiDAR Market Scope
| | |
| --- | --- |
| Report Highlights | Details |
| Market Size | USD 7.43 Billion by 2032 |
| Growth Rate | CAGR of 24.97% from 2023 to 2032 |
| Largest Market | North America |
| Fastest Growing Market | Europe |
| Base Year | 2022 |
| Forecast Period | 2023 to 2032 |
| Segments Covered | Product, Component, Application, Region Type |
| Companies Mentioned | LeosphereSaS, Airborne Hydrography AB, Faro Technologies Inc., Aerometric Inc., 3D Laser Mapping Inc., Mira Solutions Inc., Quanergy Systems, Inc., IBEO automotive systems GmbH, Velodyne, LeicGeosystems Inc. |
Customize this study as per your requirement@ https://www.precedenceresearch.com/customization/1033
Product Type Insights
Mobile LiDAR segment mounted on vehicles, also known as mobile mapping systems, is expected to grow due to their adaptability and multiple applications. The development of autonomous vehicles heavily relies on mobile LiDAR. In order to provide self-driving cars, the ability to navigate in real time and detect objects, these systems scan and map their surroundings. Mobile LiDAR is also used for efficient data collection for various applications including road and infrastructure mapping, urban planning, forestry, and surveying. This efficiency has led to increased adoption in both public and private sectors.
Moreover, to manage traffic, evaluate infrastructure, and create three-dimensional city models, mobile LiDAR is essential to the development of smart cities. The increasing popularity of smart city initiatives is driving up demand for mobile LiDAR.
Component Insights
The Laser component segment is expected to grow at a faster rate during the forecast period due to its crucial role in LiDAR systems. Developments in laser technology, such as semiconductors and solid-state lasers, have enhanced LiDAR sensor performance, accessibility, and range. These developments have expanded the use of LiDAR in various applications, such as environmental monitoring and agriculture, in addition to improving the safety and efficiency of autonomous vehicles. Furthermore, the growth of the laser component in the automotive LiDAR market has been further driven by cost reduction, regulatory support, and the realization of the importance of LiDAR in improving vehicle safety.
Application Insights
The autonomous cars segment is expected to grow during the forecast period. The growth is due to the rapid development of autonomous vehicles, also known as self-driving cars, has significantly accelerated this market. LiDAR technology is essential for the safe navigation of autonomous cars, as it offers accurate 3D mapping and real-time environment perception. When developing autonomous vehicles, safety and navigation are top priorities. LiDAR sensors are skilled at providing the high-resolution, real-time data required to make quick, safe decisions. Moreover, conventional automakers and technology firms have allocated significant financial resources towards the development of autonomous vehicles. The demand for advanced LiDAR solutions, which are essential to the profitable operation of autonomous vehicles, inevitably rises as these investments do. LiDAR technology is currently easily integrated into the development of autonomous cars owing to the establishment of regulatory frameworks and guidelines for testing and deployment. Increased investment in the industry has been urged by these regulations, which have established insurance.
Market Dynamics
Driver: Increasing focus on road safety and the growing demand for advanced driver assistance systems (ADAS)
Increasing focus on road safety and the growing demand for advanced driver assistance systems (ADAS is driving the market growth. There is an increasing awareness of the need for improved safety measures and technologies that prevent accidents and save lives as road traffic and congestion continue to rise.
LiDAR technology is crucial for the development of ADAS due to its capacity to deliver precise and up-to-date information about the environment around the vehicle. LiDAR sensors make it possible for functions that help reduce the risk of accidents and help drivers, like lane-keeping assistance, automated emergency braking, adaptive cruise control, etc. Adoption of ADAS is not limited to high-end or luxury vehicles; it is becoming more common in mainstream vehicles as well. This trend is being driven by both consumer demand for improved safety and regulatory efforts to mandate advanced safety systems in vehicles. As ADAS becomes a standard feature in many vehicles, the demand for LiDAR technology to power these systems grows significantly.
Restraint: Regulatory Concerns
The deployment of self-driving vehicles that rely on LiDAR technology for safe navigation must adhere to a complex web of regulatory requirements. Federal, state, and local governments must establish and update regulations to ensure the safety of autonomous vehicles on the road. This entails dealing with issues such as liability, insurance, licensing, and accident investigation procedures. Regulatory frameworks must adapt to the obstacles and capabilities of self-driving vehicles, including those equipped with LiDAR sensors. Navigating this regulatory landscape can take time and vary from region to region, potentially slowing market growth.
Opportunity: Non-Automotive Applications
Beyond autonomous vehicles, LiDAR technology can be used in robotics, agriculture, mining, forestry, smart cities, and environmental monitoring. LiDAR-enabled drones, for instance, are used for land surveying and creating detailed 3D maps, whereas LiDAR-enabled industrial robots improve automation and precision in manufacturing. The increasing demand for non-automotive applications broadens the market reach of LiDAR technology providers, opening up new revenue streams and diversification opportunities. It allows LiDAR technology companies to diversify beyond the automotive sector and into a broader range of industries that require 3D mapping, object detection, and environmental analysis. As these non-automotive applications grow in significance, LiDAR technology will continue to serve a crucial part, providing a promising avenue for growth and innovation.
Competitive Landscape
According to a study it estimates the global LiDAR market for passenger cars and robotic vehicles, which includes robotaxis, to have reached approximately $317 million in 2022, reflecting an impressive 95% year-on-year growth, largely driven by high demand from OEMs in the passenger car market.
Hesai stands as the top global automotive LiDAR provider, boasting the largest market share by revenue, capturing nearly 50% of the total global automotive LiDAR market due to robust growth in both the passenger car and robotaxi segments.
Hesai retains its leadership in the global robotic cars LiDAR market, where it commands an impressive 67% market share in 2022, out of a market worth $147 million.
In the rapidly expanding global passenger car LiDAR market, Hesai holds a substantial 23% market share by revenue and 31% of design wins. The company is positioned to potentially dominate this market in 2023, given its substantial projected shipments of ADAS LiDAR units.
Hesai's customer base includes virtually all major players in the robotaxi and robotruck sectors, such as Zoox and Aurora, further solidifying its prominent position in the LiDAR market.
Related Reports
Automotive RADAR Market: The global automotive RADAR market size was valued at USD 9.90 billion in 2022 and is expanding to surpass USD 191.53 billion by 2032, poised to grow at a compound annual growth rate (CAGR) of 35% over forecast period 2023 to 2032.
Automotive Active Safety Systems Market: The global automotive active safety systems market size was valued at USD 98.27 billion in 2022 and expected to reach USD 227.35 billion by 2032, growing at a compound annual growth rate (CAGR) of 8.80% from 2023 to 2032.
Automotive Active Safety Systems Market: The global automotive active safety systems market size was estimated at USD 98.27 billion in 2022 and it is expected to hit around USD 227.35 billion by 2032, growing at a CAGR of 8.80% during the forecast period 2023 to 2032.
Recent Developments
On April 2023, RoboSense, a leading LiDAR provider, expects substantial growth in 2023, with more than 50% of new cars at Auto Shanghai 2023 featuring their LiDAR technology. They have partnerships with 18 automakers and focus on equipping their latest EV models with advanced LiDAR sensors.
You can place an order or ask any questions, please feel free to contact us at 
sales@precedenceresearch.com | +1 650 460 3308
Market Segmentation
By Product Type
Aerial
Mobile
Terrestrial/Static
Short-range
By Components
Laser
GPS/GNSS Receiver
Camera
Inertial Navigation System
Micro Electro Mechanical System
By Application
Advanced Driver Assistance System (ADAS)

Adaptive Cruise Control
Automatic Emergency Braking

Autonomous Cars
By Regional Outlook
North America
Europe
Asia Pacific
Latin America
Middle East and Africa
Immediate Delivery Available | Buy This Premium Research Report@ https://www.precedenceresearch.com/checkout/1033
Unlocking Market Insights through Data Excellence 
The "Precedence Statistics" flexible dashboard is a powerful tool that offers real-time news updates, economic and market forecasts, and customizable reports. It can be configured to support a wide range of analysis styles and strategic planning needs. This tool empowers users to stay informed and make data-driven decisions in various scenarios, making it a valuable asset for businesses and professionals looking to stay ahead in today's dynamic and data-driven world. 
To Access our Premium Real-Time Data Intelligence Tool, Visit: 
www.precedencestatistics.com
About Us
Precedence Research is a worldwide market research and consulting organization. We give an unmatched nature of offering to our customers present all around the globe across industry verticals. Precedence Research has expertise in giving deep-dive market insight along with market intelligence to our customers spread crosswise over various undertakings. We are obliged to serve our different client base present over the enterprises of medicinal services, healthcare, innovation, next-gen technologies, semi-conductors, chemicals, automotive, and aerospace & defense, among different ventures present globally.
Our Blogs:
https://www.towardshealthcare.com
https://www.towardspackaging.com
For Latest Update Follow Us:
Latin America
Middle East and Africa

Disclaimer: The above press release comes to you under an arrangement with GlobeNewswire. SingaporeOutlook.com takes no editorial responsibility for the same.