New Threat Exposure Radar Enables Security Teams to Visualize and Prioritize Hundreds of Attack Surface Threats into a Manageable Set of Specific, Actionable Insights
IONIX Attack Surface Risk Score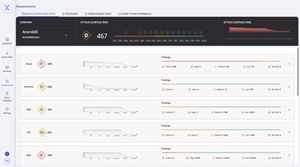 IONIX Threat Exposure Radar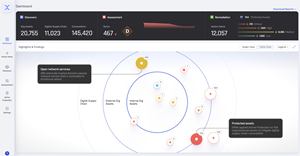 IONIX Threat Exposure Radar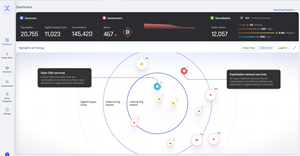 TEL AVIV, Israel, Nov. 16, 2023 (GLOBE NEWSWIRE) — IONIX is extending its industry-leading Attack Surface Management (ASM) platform with today's Threat Exposure Radar launch, the industry's first threat exposure management capability fully integrated with an attack surface management solution.
The product innovation provides a unified view of critical exposures from the entire, expanding, enterprise attack surface across cloud, on-premises, SaaS and third-party systems. It enables security teams to visualize and prioritize hundreds of attack surface threats into a manageable set of specific, actionable insights with one-click workflows to clear next steps, greatly simplifying and accelerating remediation.  
Traditional methods of managing security exposure often fall short due to unrealistic, siloed and tool-centric approaches. With the Radar, IONIX's platform now goes beyond traditional ASM tools to enable Continuous Threat Exposure Management (CTEM or TEM), an advancement that provides a more holistic and continuous approach to exposing threats from the attacker's perspective.
Using Connective Intelligence, the IONIX platform provides unmatched attack surface visibility with continuous discovery and assessment. To expose threats, risks are prioritized in a business context, exploitability is actively validated and threat intelligence is correlated with the organization's inventory.
IONIX provides security leaders with strategic oversight and tactical steps needed to mobilize teams, report findings to executives and proactively reduce risk. The product's Attack Surface Risk Score simplifies understanding of overall security posture across multiple categories to track progress and investment returns. Now, with the Threat Exposure Radar added, IONIX consolidates hundreds of security findings into a single, strategic view with one-click access to actionable instructions for resolving the exposed or vulnerable assets.
"The IONIX Threat Exposure Radar democratizes exposure management – its simplicity enables every security team to identify, prioritize and validate vulnerabilities, misconfigurations and security posture issues," said Marc Gaffan, CEO of IONIX. "Security leaders now have a more practical approach to reducing security silos, gaining a holistic view of their attack surface and prioritizing their most critical threats. It's the first step and foundation of any Exposure Management program."
The Threat Exposure Radar:
Includes both a visual radar-like view and a summary table with clickable drilldowns for deeper explanations into asset discovery and prioritization
Comprises hundreds of potential exposure insights, mapping even third-party digital supply-chain assets
Contains simple, color-coded details to highlight urgent security findings, with instant access to clear, human-language action items so that any team – security, DevOps, or IT can fix
Learn more about IONIX Threat Exposure Radar and Threat Exposure Management online.
About IONIX
IONIX's attack surface management platform uses Connective Intelligence to shine a spotlight on exploitable risks across your real attack surface – and its digital supply chain. Only IONIX discovers and monitors every internet-facing asset and connection, delivers laser focus into the most important risks to your business, and provides the tools to rapidly remediate exploitable threats and reduce attack surface exposure. Global leaders including Lexmark, Infosys, The Telegraph, Warner Music Group and E. ON depend on IONIX to go on the offensive in securing their complex and ever-changing attack surfaces. For more information visit www.ionix.io.
Media Contact
Chloe Amante
Montner Tech PR
camante@montner.com
Photos accompanying this announcement are available at
https://www.globenewswire.com/NewsRoom/AttachmentNg/e63f4011-07ff-4e76-a847-a308abd09813
https://www.globenewswire.com/NewsRoom/AttachmentNg/198ce130-b299-4d7d-86c4-06c4dd9d1b62
https://www.globenewswire.com/NewsRoom/AttachmentNg/48300325-179f-46c3-9f17-3f8cd2f65982

Disclaimer: The above press release comes to you under an arrangement with GlobeNewswire. SingaporeOutlook.com takes no editorial responsibility for the same.