Yiban, Sichuang, China , Nov. 17, 2023 (GLOBE NEWSWIRE) — Local time November 14th to 16th, the 2023 APEC CEO Summit USA 2023 (The Summit) was held in San Francisco, USA. Wuliangye, as a "Platinum Sponsor" and "Exclusive Baijiu Partner," deeply integrated into the summit and its series of official events. It set up a themed exhibition hall presenting the traditional Chinese concept of "harmony and beauty," aiding sustainable development. As a "Special Supporting Enterprise," it participated in the Sustainable Entrepreneurs Dialogue, contributing to the pursuit of higher-quality sustainable industrial development. Simultaneously, as a "Strategic Partner" and the "Designated Baijiu," it made a remarkable appearance at the Asia-Pacific Sustainable Business Night, using baijiu as a medium to help the Asia-Pacific region create a resilient and sustainable future and inject more vitality into the global economic recovery.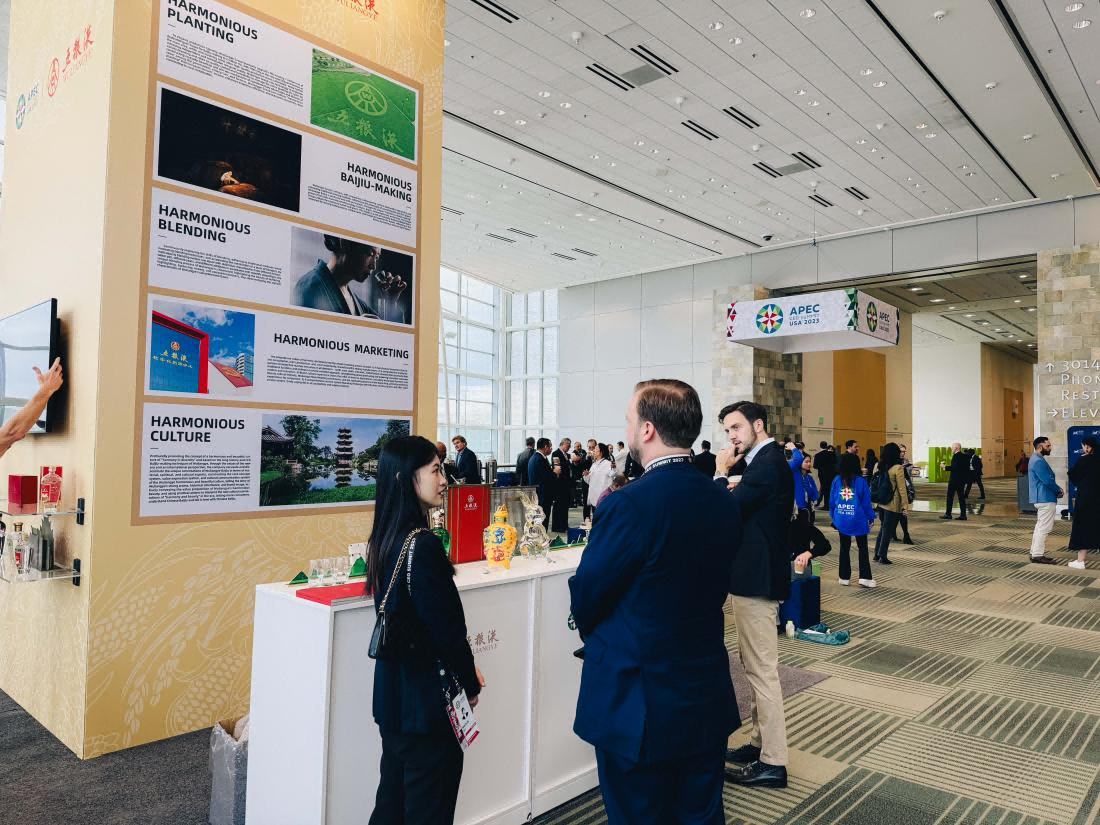 As the highest-level, broadest, and most influential economic cooperation mechanism in the Asia-Pacific region, APEC plays a vital role in promoting global and regional sustainable and inclusive economic growth. The APEC CEO Summit USA 2023 is the highest-level summit for APEC economic leaders to discuss important Asia-Pacific affairs and promote trade liberalization and economic cooperation. The theme of this summit, "Creating Economic Opportunities," focused on discussing core issues like the green and low-carbon transformation of industries and sustainable development, aiming to propose high-quality solutions for balanced economic growth and create a prosperous future for the Asia-Pacific and the global economy.
During the summit, Wuliangye's theme exhibition hall, rich in Chinese charm and expressing oriental aesthetics, showcased its craftsmanship, quality appeal, and cultural depth in brewing "strong-flavored national liquor." It comprehensively displayed its core products, such as the Eighth-generation Wuliangye, Classic Wuliangye, Wuliangye·Ziqi Donglai, Low-Alcohol Wuliangye, Wuliangye·Jiulongtan(Nine Dragon Relief Jar), and Wuliangye·Harmony Sichuan, attracting high attention and widespread praise from the delegates. At the "Asia-Pacific Sustainable Business Night" themed dinner, Wuliangye built a bridge for friendly communication among delegates, adding a new "harmony and beauty" landscape to the Asia-Pacific business dialogue.
Since 2019, Wuliangye has continuously integrated into a series of activities under the APEC framework, such as the APEC CEO Summit, APEC China CEO Forum, and APEC Women Leadership Forum. It keeps showcasing national brand confidence and the charm of harmony and beauty to the world, aiding the Asia-Pacific region in consolidating development and creating a prosperous future.
With the further advancement of high-level opening-up and the accelerated construction of an open world economy, a Wuliangye representative stated that Wuliangye would embrace a more open perspective and broader pattern. Leveraging globally influential international platforms like APEC, World's fair, Boao Forum for Asia, International Finance Forum (IFF), and the China International Import Expo (CIIE), Wuliangye will accelerate its integration into the global development wave. It aims to lead Chinese baijiu in contributing to a more beautiful and prosperous future for the Asia-Pacific and the world.
CONTACT: Yuxia zhang Sichuan Yibin Wuliangye Group Co., Ltd zhangyuxia-at-wuliangye.com.cn https://www.wuliangye.com.cn/

Disclaimer: The above press release comes to you under an arrangement with GlobeNewswire. SingaporeOutlook.com takes no editorial responsibility for the same.